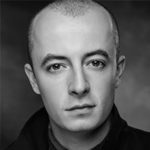 SAMUEL TOYE is a professional actor and teacher from the UK. He trained at the East 15 Acting School on the BA World Performance
where he graduated with 1st class Hons. On this course he specialised in Balinese mask, Japanese Noh, Commedia dell'arte and Indian dance-drama, as well as traditional European theatre.
From 2016-2018 he trained at the "Atelier Teatro Fisico" di Philip Radice in Turin, Italy. Here he developed further his interest and training in physical theatre, where he trained in the pedagogy of Jacque LeCoq and developed his skills in mime and clown.
From 2017 he became the co-artistic director of the visual comedy and clown company, The Three Dots, who have performed their show MIMES at the Camden Fringe Festival, Milano Clown, MIMOS festival, Dinamico festival and Torino Fringe.
Since graduating from East 15, Samuel has worked internationally in countries such as; Bali, China, France, Italy, Japan, Germany, Singapore, Switzerland.
Theatre credits:
2012 – Ariel, The Pillowman, directed by Taurie Kinoshita (London)
2013 – Demetrius, A Midsummer Night's Dream, Cornucopia Theatre (London)
2013 – Phileas Fogg, Around the World in 80 Stories, Spinning Globe Theatre (London)
2014 – Kai, The Ice Queen, White Horse Theatre (China, Japan, Germany)
2015 – Dr. Horror, Dr. Horror's School of English, Action Theatre (Italy)
2017 – The Fool, MIMES, The Three Dots Co. (UK, Italy, France)
2018 – Eric, Brexit, Tom Corradini Teatro (UK, Italy, France)
TV/Film/Voice over
2017 – Jerry, Questo Nostro Amore 80, Luca Ribuoli/RAI
2020 – Narrator, 40 Years of Panda, Delta, FIAT
2020 – Narrator, 25 Years of Barchetta, FIAT
As well as being an actor and teacher, Samuel is also an agent. With three years of experience working with a co-op agency in London, 21st Century Actors Management. He is now collaborating with the Turin based agency, Di Rubbo Agency as the agent for international clients.
Insegnamenti: Recitazione in Lingua Inglese